Well, I got my Ballard catalog in the mail and fell in love with so many things! My Christmas tree is cream and white gold sparkly so when I saw their holiday collection it just made me smile! I especially loved the Mariana Button Tree. I don't love the price of $79 bucks though! I was inspired to come up with something similar. I looked all over for the perfect buttons, but couldn't find the right shade in bulk so while laying in bed I remembered this bead pearl garland I bought for my tree from hobby lobby a few years ago. I got it home and put it on my tree and it just wouldn't hang right so it went into a baggie and hasn't been out since.
Perfect!
I had a foam tree that I spray painted and added a few sparkles.
I decided to leave the beads on the strand and just wrap around and glue them down with hot glue.
Easy, easy, keep on wrapping.
Finished up and added a long bow ribbon on top. I love it, and it matches my tree perfectly! I will be posting my holiday decor pics soon, hopefully before we head out on vacation this week starting tomorrow! What I also love is that this was practically free! I used everything I had on hand from my stash.
linked to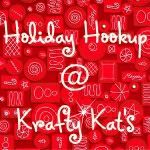 Today's Creative Blog